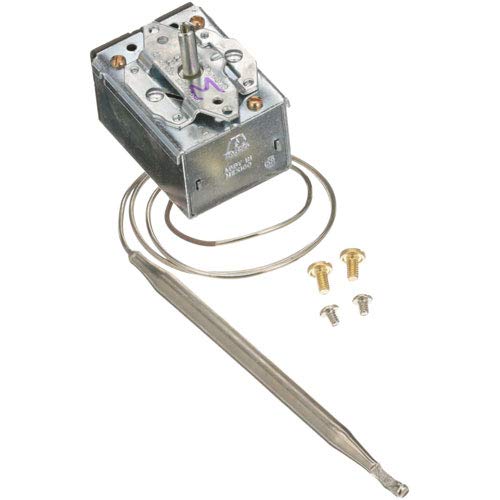 Exact FIT for RANCO G1-2727-000 Thermostat G1, 5/16 X 5, 24 - Replacement Part by MAVRIK
Brand: Mavrik
Features:
EQUIVALENT TO RANCO PART# G1-2727-000
THIS IS THE EXACT FIT FOR RANCO G1-2727-000
Mavrik OEM-equivalents -- your best choice for safety and reliability
Why pay more for OEM? Save time and money with Mavrik OEM-equivalents
This part is covered by manufacturer warranty
model number: G1-2727-000
Part Number: MVK_G12727000
Details: PRODUCT INFO:[ TYPE - G1 ] [ TEMP 60-255 ] [ BULB 5/16" X 5" ][ CAP 24"KNOB 80-200 # 22-1228]CARTER HOFFMAN WARMER FH90 CAPILLARY CLAMP: # 26-3078 SNAP-IN,CAPILLARY CLAMP: # 26-1935 CLIP-ONB "Why pay more for OEM? SafetyOEM parts and Mavrik OEM equivalents are often made in the same factory. That means that Mavrik parts meet the exact same requirements as the name brands. You may think that paying premium prices means that you're getting safer parts, but you're really paying more for the name on the label.  Reliability Mavrik OEM-equivalent parts go through rigorous testing and must meet strict quality standards, many of them coming to us with industry-recognized certifications. All of our OEM-equivalent parts are backed by a 90-day return policy and an unbeatable 180-day warranty, so you can see Mavrik quality for yourself, risk free.  Warranty protection You may have heard that using OEM equivalent parts voids the manufacturer warranty, but a quick Google search will show you that this is not true. Legal protections such as the Magnuson-Moss Warranty Act ensure your freedom to choose your replacement parts. As long as none of the Mavrik parts were the direct cause of the equipment malfunction, you're still covered. "