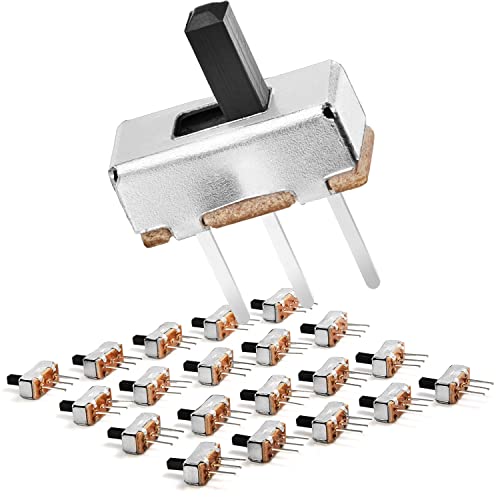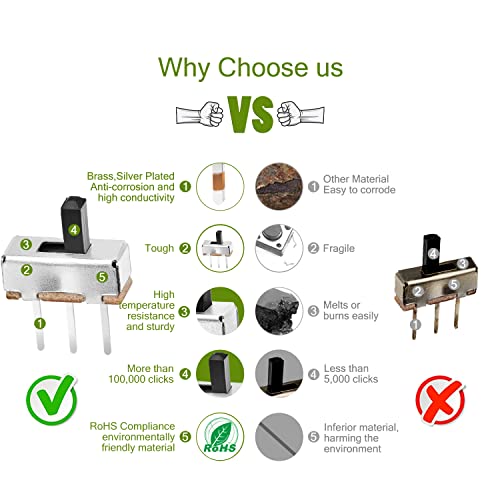 flashtree Mini SPDT Slide Switch 3 Position Micro Slide Switch 3 Pin 1p2t Switch For PCB Arduino Breadboard Electronic Board Toggle Vertical Slide Switch Panel Mount Miniature Switch Small Dip 20pcs 4mm
Brand: CHANZON
Features:
FEATURES – Modle: SS12D00G; Contact Type: SPDT on-off; Size: 8.7 x 3.7 x 12.7mm (L x W x H); Pin Pitch: 0.1" / 2.54mm; Terminal Quantity: 3 pins; Terminal Length: 5mm; Knob Length: 4mm; Connector Type: Vertical Through Hole; Mounting Type: Panel Mount; Color: Black, Sliver.
MATERIAL – Plastic, Brass, Sliver Plated: Anti-corrosion and high conductivity; Voltage: DC 50V; Rated Current: 0.5A; Mechanical Life: More than 100,000 clicks; High Temperature Resistance: -13℉ ~ 176℉.
APPLICATION – Used for pcb project, arduino, solderless breadboard, electronic circuits, electronics board, microphone, audio, video, electric circuit, position solder, etc.
HOW DO TACTILE SWITCH WORK - The middle pin is fixed. When the handle is pushed to the left, the left two pins are connected, push it to the right, the two pins on the right connect, thus switching circuits.
PACKAGE – Quantity: 20 pcs; Comes with on/off SPDT dip 3pin terminals 2 positions small long dual sliding switches.
Part Number: KG-HD-SB4MM-3J-SS-12D00G-20