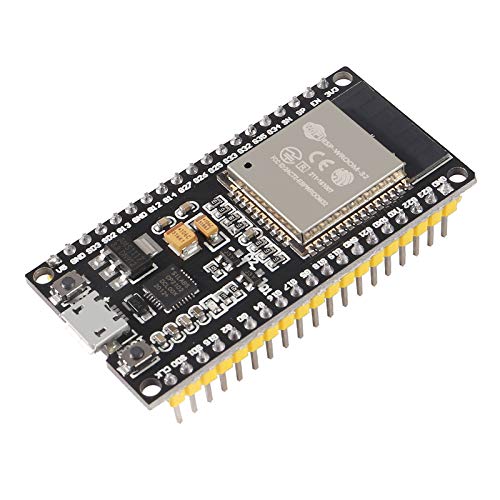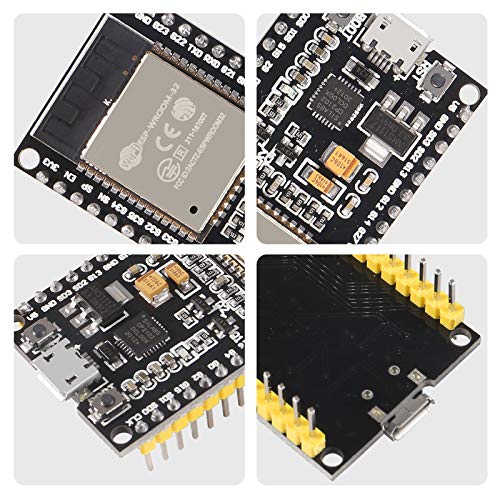 flashtree 5pcs ESP-WROOM-32 ESP32 ESP-32S NodeMCU WiFi WLAN CP2102 ESP32-WROOM-32 IoT 2-in-1 2.4GHz Dual-Mode WiFi + Bluetooth Dual Cores Microcontroller Processor Compatible with Arduino IDE
Brand: AITRIP
Features:
The onboard CP2102 stable USB to TTL chip ensures the normal communication of the serial port.
Support ESP32-Arduino ;SupportThree Modes: AP, STA, and AP+STA
Support automatic download, no need to manually switch download and running mode.
Support development on Windows system (cygwin and msys32 simulation environment) and Linux system
ESP-WROOM-32 is a general-purpose Wi-Fi+BT+BLE MCU module with powerful functions and a wide range of uses. It can be used for low-power sensor networks and demanding tasks, such as voice encoding, audio streaming, and MP3 decoding Wait.
Details: Features1: Wireless Standard FCC/CE/IC/TELEC/KCC/SRRC/NCC Wireless Protocol: 802.11 b/g/n/d/e/l/k/r Frequency Range: 2.4 - 2.5 GHz Memory:4 MB Flash, 520KB SRAM Wireless Form: On-board PCB Antenna Operating Temperarure: -40 to +125 °C Wireless Network Type: Station/ SoftAP/ SoftAP + Station/ P2P Security Type:WPA/ WPA2/ WPA2-Enterprise/ WPS User Configuration: AT+ Order Set, Web Andriod / iOS, Cloud Server Firmware Upgrade: UART Download / OTA / Host Network Protocol: IPv4, IPv6, SSL, TCP / UDP / FTP / HTTP / MQTT Electrical Characteristic: 3.3 V Operated, 15 mA output current per GPIO pin, 80 mA average working current Bluetooth Specification: NZIF Receiver with -98dBm sensitivity, Class-1 Class-2 and Class-3 transmitter, AFH, CVSD and SBC Features2: Built-in ESP-WROOM-32 chip Able to achieve ultra-low power consumption Uses wireless protocol 802.11b/g/n and Bluetooth (Classic and LE). Built-in PCB antenna on the ESP32-WROOM-32 Uses CP2102 USB Serial Communication interface module Capable of PWM, I2C, SPI, UART, 1-wir, 1 analogue pin Programmable with ESP-IDF Toolchain, LuaNode SDK supports Eclipse project (C language) Package Include: 5PCS  ESP32-WROOM-32 Development Board
EAN: 0701715499966
Package Dimensions: 3.5 x 2.0 x 0.4 inches