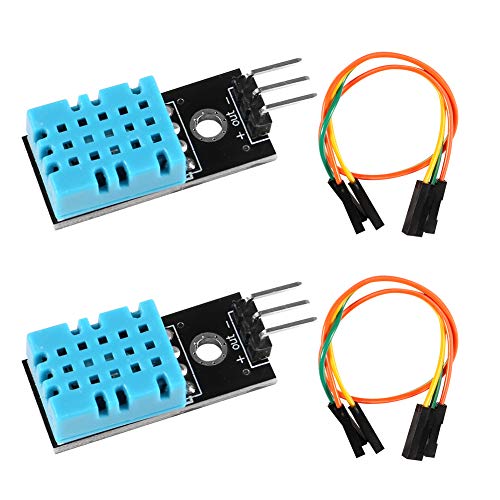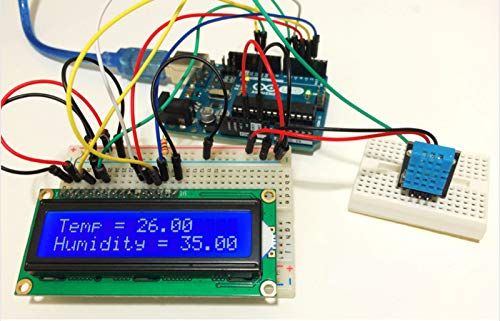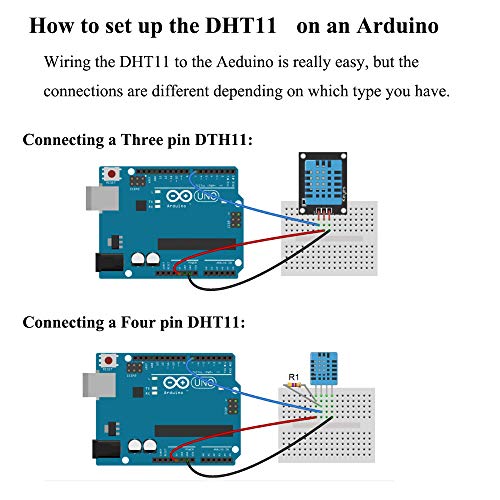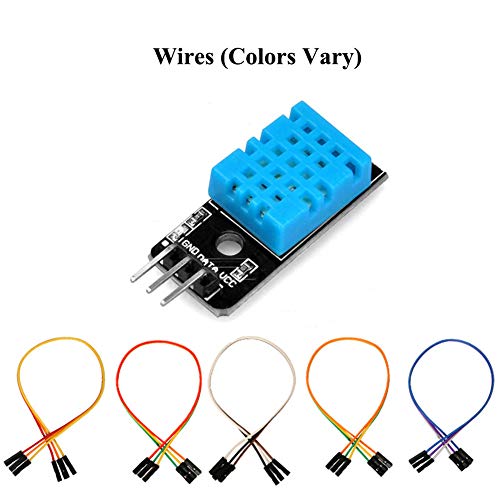 flashtree 2pcs DHT11 Temperature Humidity Sensor Module Digital Temperature Humidity Sensor 3.3V-5V with Wires for Arduino Raspberry Pi 2 3 (2pcs DHT11)
Brand: AITRIP
Features:
DHT11 digital temperature and humidity sensor is a digital signal output with a calibrated temperature and humidity combined sensor.It uses a dedicated digital modules and acquisition of temperature and humidity sensor technology to ensure that products with high reliability and excellent long term stability.
Sensor consists of a resistive element and a sense of wet NTC temperature measurement devices, and with a high-performance 8-bit microcontroller connected.
The single-wire wiring scheme makes it easy to be integrated to other applications.And the simple communication protocol greatly reduces the programming effort required.
Humidity Measure Range 20%-95%,humidity measurement error: +-5%; Temperature Measure Range 0-50°C,temperature measurement error: +-2 degrees.
Working voltage: DC 3.3V-5V.Output form: digital output.
Part Number: 15366
Details: The DHT11 humidity and temperature sensor makes it really easy to add humidity and temperature data to your DIY electronics projects. It's perfect for remote weather stations, home environmental control systems, and farm or garden monitoring systems. DHT11 Specifications: Operating Voltage: 3.5V to 5.5V Operating current: 0.3mA (measuring) 60uA (standby) Output: Serial data Temperature Range: 0°C to 50°C Humidity Range: 20% to 90% Resolution: Temperature and Humidity both are 16-bit Accuracy: ±1°C and ±1% Features: Relative humidity and temperature measurement All calibration, digital output Excellent long-term stability No extra parts required Extra long signal transmission distance Ultra low energy consumption Completely interchangeable Details about the code You need to follow these instructions to make it work: 1. You need to add the library to the Arduino IDE. 2. Upload the code. 3. When the code is uploaded, open the Serial Monitor and set the baud rate to 9600. 4. You will see the humidity and temperature. Applications: Measure temperature and humidity Local Weather station Automatic climate control Environment monitoring Package: 2* DHT11 Digital Temperature Humidity Sensor Module 2* Wires (Random colors)
EAN: 0701715429819
Package Dimensions: 2.0 x 1.8 x 0.3 inches