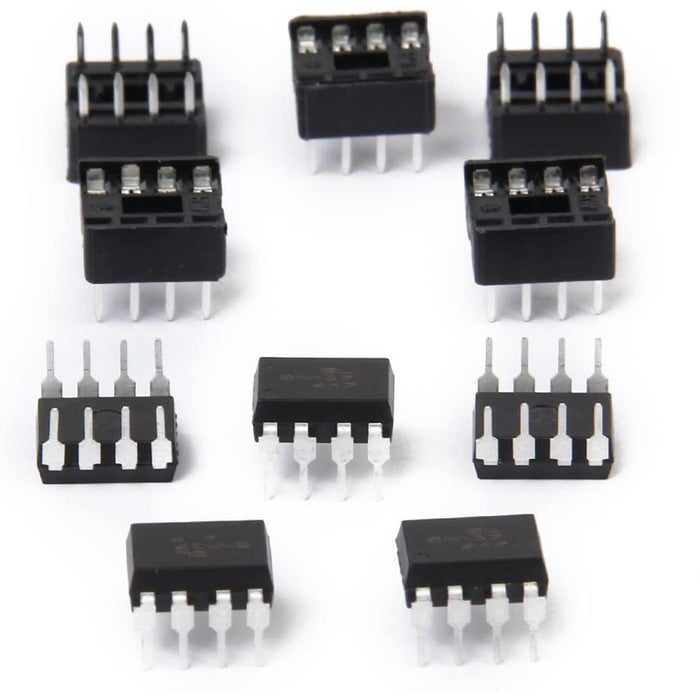 flashtree 5pairs 6N137 DIP8 HighSpeed Optoisolator Photocoupler Optocoupler W/Chip Socket
The EL817 photocoupler contains an infrared emitting diode optically coupled to a phototransistor. This EL817 optocoupler is packaged in a 4-pin DIP package.
Description:
- High speed 10Mbit/s
- High isolation voltage between input and output (Viso=5000 V rms)
- Package: DIP8
- Pb free and RoHS compliant
- Optocoupler Size (L x W x H): Approx. 0.35 x 0.24 x 0.12inch / 9 x 6 x 3mm (pins not included)
- IC Socket Size (L x W x H): Approx. 0.39 x 0.39 x 0.2inch / 10 x 10 x 5mm (pins not included)

Applications:
- Computer terminals
- System appliances, measuring instruments
- Registers, copiers, automatic vending machines
- Cassette type recorder
- Electric home appliances, such as fan heaters, etc
- Signal transmission between circuits of different potentials and impedances

Package Includes:
5 x 6N137 Optocoupler
5 x Chip Socket

Your satisfaction is our priority. So we would deliver the highest quality products and services to meet your satisfaction.
The EL817 photocoupler contains an infrared emitting diode optically coupled to a phototransistor. This EL817 optocoupler is packaged in a 4-pin DIP package.

High speed 10Mbit/s

High isolation voltage between input and output (Viso=5000 V rms)

Package: DIP8

Pb free and RoHS compliant