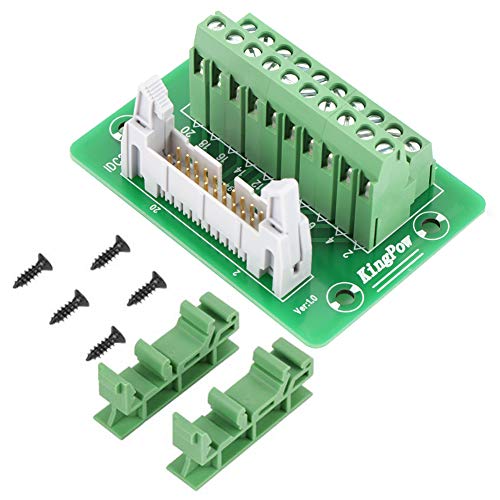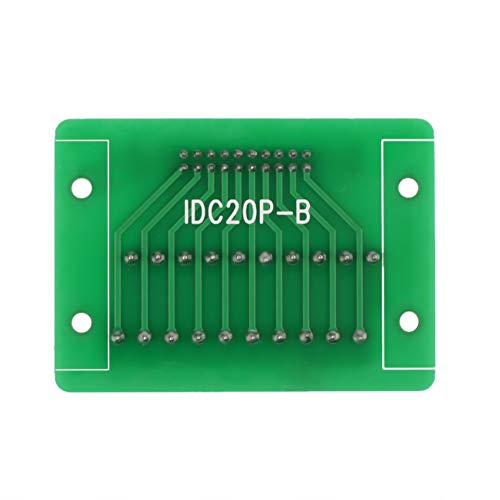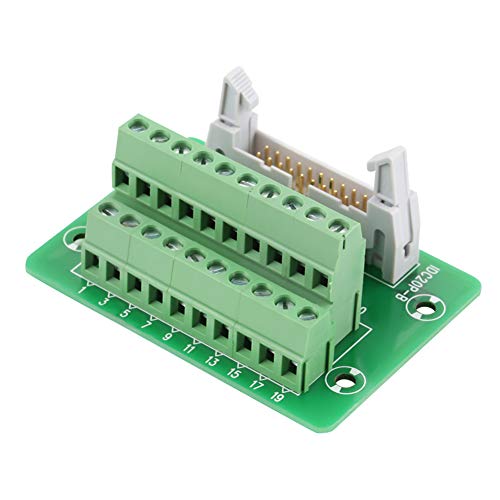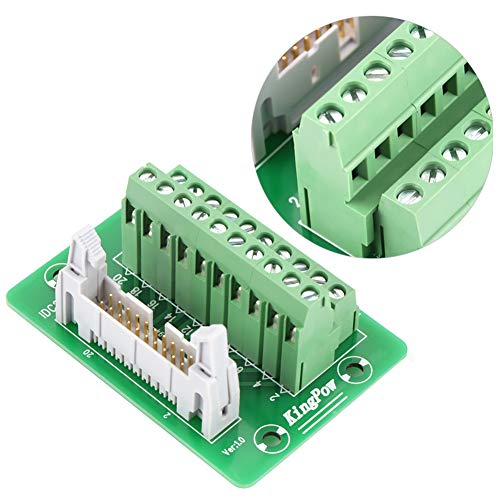 Molence IDC20 2x10 Pins 0.1" Male Header Breakout Board, C45 DIN Rail Mounting Terminal Block Connector for PLC MCU
Features:
20 Pins (2 x 10) 0.1" Pitch: This IDC20 breakout board brings all 20 pins of its male dual row header out to screw terminal blocks. Each pin is also brought to solder pads (3 per pin) at 0.1" (2.54mm) spacing, allowing the easy addition of pin headers.
DIN Rail Mounting: DIN come with DIN clips already installed and ready to snap onto 35mm or 32mm DIN rail.
Screw terminals accomodate wire sizes from 16AWG to 26AWG.
Quick Connection: Ejector latches on header provide secure connection and quick disconnection.
Widely Applications: It is well-suited for interfacing with I/O cards, data acquisition (DAQ) equipment, and any other device that uses a 2x20 40-position header connector. Applications include the Raspberry Pi A+, B+, 2B, and 3B boards, all of which use a 0.1" pitch 2x10 I/O pin header for their GPIO expansion ports.
Part Number: Molence506-508
Details: A dual row header is sometimes referred to as an "IDC Header", "IDC connector", or "ribbon cable connector". A breakout board is sometimes referred to as a "transition module", "terminal board", "terminal block", "breakout box", "breakout adapter", "terminator", or "interface module". Specifications: Pin pitch: Dual row 0.1"/2.54mm spaced male pin header Pitch: 5.0mm Rated voltage: 60V Rated current: 1A/per pin Wire range: 26-16AWG Strip length: 5mm Screws: M3,steel,Zinc plating color Pin header and Cage: Gilded(3U) FR-4 fiber glass PCB Dual copper layers Operating Temperature: -20ºC to 50ºC DIN rail mountable: 15/32/35mm PCB Dimensions: 51mm x 71mm/2.01" x 2.80"(W x L) Package Content: 1PCS IDC20 2x10 Pins 0.1" Male Header Breakout Board
EAN: 8064793999219
Package Dimensions: 6.0 x 4.0 x 0.7 inches