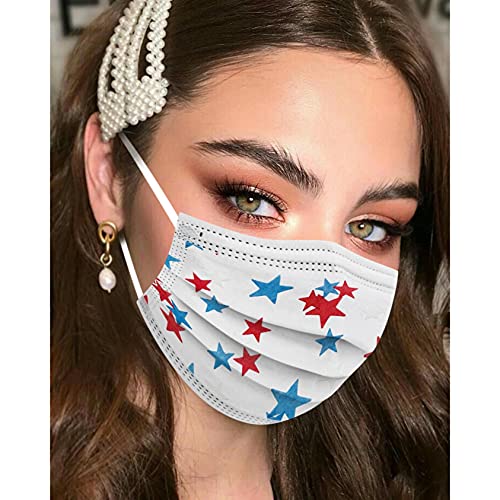 flashtree Adult Disposable_Face_mask, Red Blue Five-pointed Star Print White Face_mask for Women Men, 3-Layer Filter_Mouth_cover, Breathable Comfortable, Suitable for Outdoor and Holiday (10PCS)
Color: 10PCS
Features:
Comfortable Material: This face mask is made of three protective layers. Outer layer with non-woven fabric can effectively filter particulate pollutants in the air. Middle melt-blown cloth layer can effectively keep away from impurities. Inner absorbent white non-woven layer is skin-friendly and more breathable.
Variety Functions: The mouth mask can effectively block visible objects such as droplets, dust and haze, filter small particles in the air.
Considerate Design: The face mask designed with elastic ear loop and adjustable nose strip. High elastic ear loop, pose less press to ears and face, avoid the uncomfortableness from long-time use.
Wide Application: Fashion disposable face mask is suitable for any occasion. A must for daily life: perfect personal care pack for daily use, for home and office, school and outdoors, service staff and personal needs. Best gift for your family and friends.
Fashion Patterns: The face cover is simple but fashion and it never outdated. Exquisite print face mask suitable for any occasion. The five-pointed star print face mask was beloved by fashion people.
Part Number: INID
Details: Features: 1. Made of environmental friendly material. It is very soft and comfortable.2. Breathable material and cute patterns, which makes it useful and fashionable.3. Special 3 ply non-woven design.4. Perfect design, when you wear it , it fits seamlessly into your face. Elastic ear loop is easy to wear and no pressure to the ears.5. nail salon or any other areas where protection might be requiredPackage Content:10/30PCS
EAN: 0090998743959